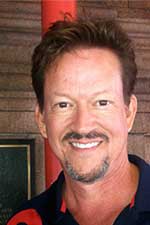 John Frost, partner in Goodratings Strategic Services and creator of the Frost Advisory, has been a successful major market disc jockey and program director for such companies as CBS, Gannett, Cap Cities, Westinghouse, Multimedia, and Sandusky during his 40+ years broadcast career.
Prior to joining Alan Mason at Goodratings in 1999, John was Vice President of Programming for Paxson Communications' 47-station group in Florida. He stayed with Paxson through the transition from a radio company to launch the PAX TV network.
Prior to the corporate programming position at Paxson, John was responsible for programming for the company's cluster in Orlando, Florida, which grew from three to six stations in three years.
It was at AC Magic 107.7 that John and then-consultant Alan Mason launched what is believed to be the first family values, "safe for the family" strategy, resulting in Paxson Communications' first 12+ and #1 25-54 station.
Bud Paxson, Chairman of Paxson Communications and very tall fellow, cites the success of family values radio as a catalyst for his dream of a family friendly television network.
Prior to Paxson, John was on the cutting edge of the Smooth Jazz format while program director of The Oasis in Dallas, one of the first Smooth Jazz stations to achieve a top five ranking adults 25-54.
John's twenty-year on-air career took him from his home state of Texas, to Shreveport, Detroit, St. Louis, Seattle, and Dallas.
In the last decade and a half, John has been involved in the dramatic growth of Contemporary Christian radio, bringing mainstream programming strategies and research principles to help grow and develop some of America's most successful Christian music stations including Z88.3 in Orlando, Salem's Fish stations in Los Angeles, Portland, and Atlanta, CRISTA's Spirit stations in Austin and Seattle, KSGN in Riverside-San Bernardino, KTSY in Boise, Star 88-3 in Fort Wayne, and WGTS in Washington, D.C. John is also involved with helping KSBJ and NGEN in Houston, Star 93-3 in Cincinnati, Family 96-5 in Brisbane, Australia, and the United Christian Broadcasters in Canada.
The Gospel Music Association honored John in 2004 with the Scott Campbell industry achievement award. Radio and Records and Christian Radio Weekly have recognized John as one of the most influential people in the Christian music industry.
John is the co-creator and executive producer of the internally syndicated "Keep the Faith" heard by almost 2 million people a week, and serves as a director in the Charity One, which helps develop compelling media content for ministries and non profit organizations.
Ever comfortable behind the microphone and an avid baseball fan, John is in his 16th season as the semi-professional public address announcer at Roger Dean Stadium in Jupiter, Florida, for St. Louis Cardinals' spring training, as well as the Cardinals' and Miami Marlins' minor league teams through the summer.
John can be contacted at john@goodratings.com.