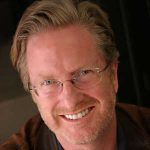 With his Kenner Close 'N Play Phonograph in one hand and a copy of Ray Stevens's "Gitarzan" in the other, 6-year-old TJ first discovered the power of  "playing the hits."  Forty-five years later, the hits have changed and the technology has evolved past the Close 'N Play but TJ's passion for the power of music hasn't waned one bit.
His love of music first found an outlet on the carrier-current powered airwaves of Michigan State University campus radio around 1985.  The tens of people listening to their AM radios heard TJ talk up his first ramp and artfully hit the top of the hour break for network news.
His professional career launched two years later in Lansing, Michigan at a rimshot 3kw rock station.  After three format changes in 2 years, it was time to experience real broadcasting.  It was at that point that his career intersected with Chuck Finney and Goodrich Broadcasting.  TJ took advantage of this opportunity by learning everything he could about working within a successful organization.  By the time the economic downturn of 1989 hit, TJ had experience on-air, as a music director, a promotion director, and as a program director.
TJ pulled up his Midwestern roots and landed at Portland, Maine's "Ocean 98" (WCSO-FM) where he cut his programming and management teeth under the guidance of his consultant, Tim Moore.  Success came and, along with it, the need to keep ahead of the competition.  The programming team saw the opportunity of continued growth by bringing in someone to aid with music research.  That decision launched a lifelong mentorship and friendship for TJ with consultant, Alan Mason.
Next was Cincinnati and Warm 98 (WRRM) to join the legendary Susquehanna Radio Corp.  Winning brought opportunity for growth when Susquehanna invested in the market by acquiring then Smooth Jazz station 94.9 The Wave (WVAE-FM).  This gave TJ the chance to reconnect with Alan.  The Wave gave way to Mojo 94.9, a ratings winners in "jammin' oldies" where others failed.  Warm 98 became one of the most respected ACs in the industry as they created a brand that cut through the noise, softly.  Instead of fitting into the "light rock, less talk" mold, Alan and TJ broke it by inserting a "family values" pledge to this heritage AC in the form of "Family Friendly Warm 98".  Warm 98 dominated in demo and proved that a station that focuses on the positive can win big in mainstream radio.
Opportunity called in Columbus, OH and a chance to join the programming team of one of AC's other legendary stations, Sunny 95 (WSNY-FM).   Working for Saga Communications proved to be another great growth opportunity for TJ.  Yet, even with the success with Saga, something was missing.
It was certainly no coincidence when at that point, TJ received the call (literally and spiritually) to once again link up with Alan.  This time it was across town at Contemporary Christian 104-9 the River (WCVO-FM).  It didn't take long before the station was recognized by Christian Music Broadcasters as its "2014 Large Market Station of the Year".
To this day, TJ has programmed almost every English language station and has been voted one of the "Top Programmers in America" multiple times.  His stations have been recognized as "Station of the Year" in two separate formats (twice in AC and once with CCM).
TJ brings passion to mentoring team members, creating a real strategy for sustained growth, developing engaging brands, applying analysis and research based thinking, and for finding radio's place in the digital and social media landscape of today… and tomorrow.
When he's not building radio brands, TJ is home trying to improve his ratings with his wife and two children.  Never far from music, TJ's basement is a shrine to his collection of rare guitars… and maybe a Ray Stevens single or two.
TJ can be contacted at tj@goodratings.com.