"We can complain because rose bushes have thorns, or rejoice because thorn bushes have roses."
~Abraham Lincoln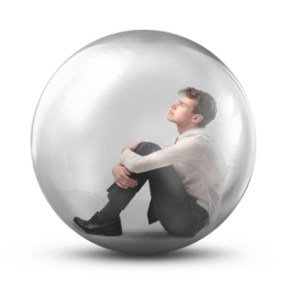 I realized recently how success… or failure… can change your perspective.  But especially when you're successful, you can begin living in a bubble.  Suddenly everything is seen through the lens of your success, which tends to lead you to see anything and everything in a way that reinforces that last success.  No need to examine alternatives or a wider perspective on the world, just where you are and where you've been.  It's one of those "if I close my eyes no one can see me" strategies.
It's calm inside the bubble because there's never anything bigger to wrestle with. You're the most successful person in the bubble, but it's such a small part of the world around you.  The bubble keeps you from growing and expanding, and you don't realize how small you seem to those outside of it.  Until one day the bubble bursts, and you feel the full force of reality.
How do you know if you're in a bubble?  Ask yourself these questions:
Am I pretty much doing the same thing over and over, enjoying the celebration around me?
Are you doing those things with essentially the same people who, being inside the bubble with you, are the only ones who have your trust?
Do you fight new ideas that are nearby, but outside your sphere of influence?
Do you spend more time on managing to keep things outside the bubble from breaking in than you do scanning the horizon for new ideas?
Here's a thought from the Crosby Retreat I attended in New York recently:  Somewhere someone's planning something that will disrupt your success.  Or maybe burst your bubble.