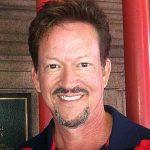 John Frost's 45-year broadcast career includes two decades as an air
personality, then as program director, corporate programming, and consulting for companies such as CBS, Gannett, Cap Cities, Westinghouse, and Sandusky.
John was a part of the creative team for trendsetting formats such as Smooth Jazz, Young Country, sports radio, and Modern AC.
As a result of changes in FCC ownership regulations in the early 90's, John was on the ground floor of consolidation at Paxson Communications' six station cluster in Orlando, Florida, the first cluster to have stations ranking #1 in Women 25-54 and #1 in Men 25-54 in the same book.
John served with Alan Mason as Vice President of Programming for Paxson's 47-station group headquartered in West Palm Beach, Florida, where John and Alan's involvement with Christian radio began as a result of a tithe from Bud Paxson to WAY-FM.  Mr. Paxson, founder of Home Shopping Network, believed that Christian radio could have the greatest impact if it embraced the strategic principles and disciplines of Paxson Communications.
In 1999, John and Alan formed Goodratings Strategic Services as a resource for Christian ministries.
Over the last twenty years John has been involved in the significant growth of Contemporary Christian radio, being a part of developing some of America's most successful Christian music stations including Z88.3 in Orlando, Salem's Fish stations in Atlanta, Los Angeles, and Portland, CRISTA's Spirit stations in Austin and Seattle, KLTY in Dallas, and KSBJ in Houston, as well as stations in Canada, Australia, and the United Kingdom.
John is the co-creator and executive producer of the internationally syndicated "Keep the Faith," sharing songs and stories of hope and Contagious Encouragement to almost two million listeners a week.
John helped create "You Think About That" for Steve Brown's Key Life network, as well as the "Lead Like Jesus" radio campaign for Ken Blanchard, author of "The One Minute Manager" best sellers.
The Gospel Music Association honored John in 2004 with the Scott Campbell industry achievement award. Radio and Records and Christian Radio Weekly have recognized John as one of the most influential people in the Christian music industry.
Ever comfortable behind the microphone and an avid baseball fan, John has served for almost 20 years as the semi-professional public address announcer for St. Louis Cardinals' spring training in Jupiter, Florida, as well as the Cardinals' and Marlins' minor league teams through the summer.
John can be contacted at john@goodratings.com.