"The most important thing I learned is that soldiers watch what their leaders do.  You can give them classes and lecture them forever, but it is your personal example they will follow."
~General Colin Powell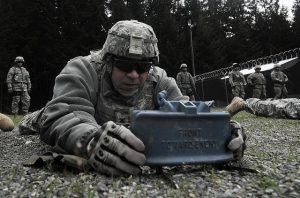 When the team is together, everyone talks teamwork.  When it's public, we're all aware that people are watching.  But when in pairs, or by themselves, when they think no one is around, it's sometimes different.  They're not leaders, I'm not even sure they're managers, but I know they are toxic.
There's a reason the military has "This side toward enemy" printed on the front of Claymore mines.  They know that sometimes people are in a hurry, not paying attention, or just don't understand the ramifications of which way it needs to go.  I'm sure in the early days there were cases of those devices being planted in the wrong direction.  But in the business world, a backfire is a glitch.  People aren't killed.  Harmed maybe, but not killed.
The difference is you, and your leadership.  When you're complaining about your boss, or another leader, when you're rolling your eyes at their comments, or when you try to create an alliance to ensure you win, you're planting a leadership Claymore in the wrong direction.
---