"No, no! The adventures first, explanations take such a dreadful time."
~Lewis Carroll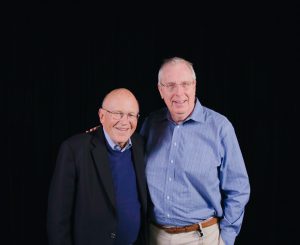 Ken Blanchard tells the story of a time shortly after 9/11 when he forgot his identification when trying to board a plane.  Being what I'd call a pretty fast thinker, he ran to a nearby pre-TSA bookstore and bought a copy of his latest book.  When he got to the TSA agent, he said he didn't have his passport or drivers license, but had this… and held up the copy of the book for the agent to see.  "Hey, this guy knows Don Shula," the agent yelled to his compatriots.
Old guys rule!
I had the opportunity to talk to, and primarily listen to, Ken Blanchard recently,   I've read most of his books, from the first one, and was interested for the opportunity to find out why he was so successful.  I learned a couple of things I wouldn't have imagined.
First, he's a great storyteller.  Not about himself, but about the world around him and how he navigates it.  And if you read them, every book is told in story form.  Even today, years after its release, I still remember the concept of "leave alone-zap" from the One Minute Manager.  Stories are social, stories are viral.  Facts… not so much.  None of us ever asked for a bedtime fact.
Second, he's a collaborator.  I always wondered why it was always, "Ken Blanchard with…", and I learned it was fundamentally because he's a collaborator.  He feels he's better when there's someone with him.  Sorta the way morning teams feel.  He believes other people make him better.  Yep, he's even written a book about it.
With Blanchard, collaboration takes a form I hadn't heard of before.  He has 6 or 7 drafts of each book before publication, and has it out for others to read, and then asks them a few simple questions, including, "What do you remember from the book?," and "What could be better?"  He's been doing this since the "One Minute Manager", and with 60+ books to his name, that's hard to argue with.  I want to be Ken Blanchard when I grow up!
How many of our stations are constructed around the principle of storytelling?  How many of us really emphasize collaboration across departments?
---