"The great pleasure of a dog is that you may make a fool of yourself with him and not only will he not scold you, but he will make a fool of himself too."
~Samuel Butler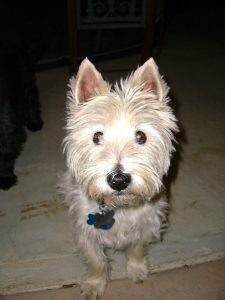 Our 15-year-old Westie follows us around everywhere we go.  He seems to always be at our heels.  That's why following someone around is called "dogging" them.
But our Westie has another interesting habit: he tries to anticipate where we're heading.  He moves around us, and then, of course, is in the way and stops us.  Poor guy, it's almost like he's read some books about poor management and is trying to express it.
It comes up in management because micro-managing is a workplace version of dogging.  If you're always on the heels of your people, watching everything they do, questioning everything that happens, and trying to tell them what to do, you're dogging them.  Worse yet, if you try to play the leader using the "dogging" management technique, you're bound to trip them up too.  It's hardly leadership, let alone a good form of management.
Then there's the second cousin of dogging, hounding.  That involves asking so many questions or "following up" so much it drives people crazy.  Of course, there are lots of other comparisons, like having to pee on the fire hydrant to mark it.
But then, people are smarter, right?