"In the past a leader was a boss. Today's leaders must be partners with their people… they no longer can lead solely based on positional power." – Ken Blanchard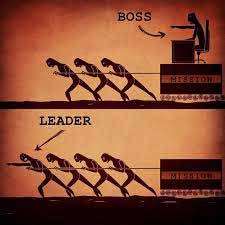 There's a great scene in Forrest Gump where the Army Drill Instructor asks Gump what his responsibility is, and Gump replies, "To do whatever you tell me to drill sergeant."  Of course the DI thinks Gump is a genius.
Unfortunately that's often the perspective today's boss has too.  They think they can make anyone do most anything they want by ordering.  They're not only wrong, it's a dangerous misapprehension. There's a term for this kind of management, KITA, which stands for Kick In The A… never mind, you get the idea.
Only the very deluded think they can drive their team to greater success by snapping the whip and making all the decisions.  The landscape is dotted with people who thought they were leaders, and turned out to be bosses.  Usually they thought they were the only ones with all the ideas.  They thought they were expert leaders, when really they were strong bosses.
If you've ever felt demeaned, chances are you're working with a manager, not a leader.  Sometimes they want to dominate you, but more often they just want you to do what they think is right.  Life seems very simple to these people.  They're the Lone Ranger and you're Tonto.
I know it's not fun for the employee, and imagine it's not fun for the boss either.  Ordering people around doesn't really work and is followed by frustration.  In real life you need to be more like John Wooden and less like a boss.